Have you recently experienced water in your house that shouldn't have been there?
Maybe the kids put the wrong soap in the dishwasher causing it to spill water all over the floor. Or maybe the hose to your washing machine came out of the drain in the wall and dumped water all over your laundry room. Even not having a bath mat can lead to water damage. 
Even not having a bath mat can lead to water damage >>>
These are common sources of water damage that we, at All Nation Restoration, see every day.
If left uninspected by a water damage restoration company, these types of water losses cause serious damage to your home and property even if you acted quickly in mopping up the water.
Below are some tips that might be helpful if this has happened to you and what to expect if you do have water damage.
Have you cleaned up all the water?
Even if you have cleaned up the surface water and have no visible damage, you may still have a problem. Almost immediately following a water spill or leak, water makes its way under the baseboards or cabinets and into the drywall and walls cavities and remains there leaving the area wet for months.
A sign that water is trapped behind the baseboards is when the baseboards begin to separate from the wall at the caulk line or begin to show signs of swelling. These areas now become a prime breeding ground for mold, structural rot, and bad odors. 
Check out what's behind this normal looking kitchen >>> 
Turning what seemed to be an unfortunate water spill that was easily cleaned up, into an issue that requires mold inspectors to write mold protocols and licensed mold remediation companies to set up containment barriers and remove harmful mold from your home.
These situations are hard for homeowners because most times their insurance companies will deny any chance of a claim due to negligence or simply because most insurance policies don't cover mold. This is something we wish to spare all homeowners from experiencing.
What do I need to do if I had a large water spill?
The first step you are going to want to take is to call a reputable water damage restoration company right away to do an inspection of the area using moisture-detecting equipment. Most restoration companies can arrive in about 30 minutes during an emergency situation and the next day for non-emergencies.
Please don't call just any company, it's very important that you do some research first so that you know you're getting a company that will be honest with you and not just try to sell you something you don't need.
While you're waiting, we recommend cleaning up as much water as possible. Also, be sure to take pictures of the area before you clean up and document the time you spend. This can be helpful if you need to file an insurance claim.
What should I expect if I have water damage that needs to be remediated? 
What to expect heavily depends on how large of an area is affected, what materials are salvageable or non-salvageable, and if mold treatment is needed.
What does a water damage restoration company do? >>>
Call the insurance company and file a claim if the damages are estimated to be above your deductible. Normal deductibles are about 1% of the value of your home.
The water damage restoration company should document the affected area by taking pictures of the damaged structure and contents. Then, extract water if it is still standing or soaked into the carpet and begin filling out moisture logs. The crew should move furniture out of the affected area or secure it in the area next. Any company will place drying equipment last, after removing any materials and cleaning up.
The types of drying equipment used in most cases are air movers and dehumidifiers. The fans make a lot of noise and blow a lot of air. The dehumidifiers don't make a lot of noise, but they do let off a good amount of heat. Some fans on the market are quieter than others, but the affected area will no longer be a pleasant place to be either way.
In some cases, the insurance company will pay for a stay at a hotel while the remediation work is taking place if living in the house isn't possible. If you are left without a functioning kitchen and/or bathroom, you may be covered for the time it takes to get your home restored. Always check your insurance policy and talk to your insurance agent if you have questions about your coverage.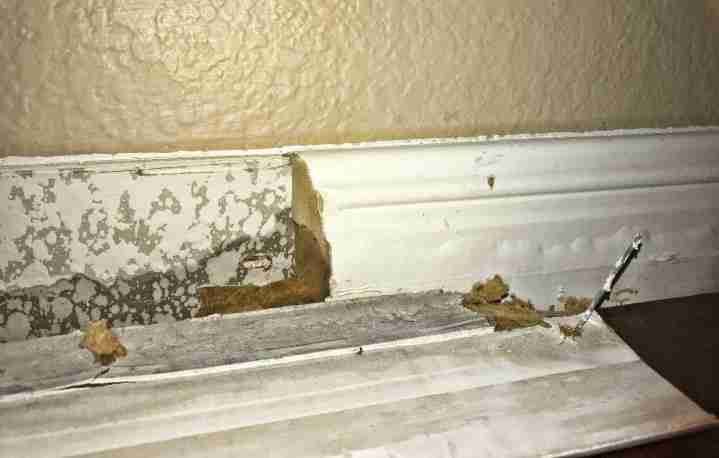 About 3-5 days after the equipment was placed, the restoration company should come back and check the moisture content in the affected materials.
There are times it does take longer than expected to dry, it depends on the environment of the project. Some variables that can extend the dry time are temperature, multiple floors affected, and equipment.
The ideal temperature for the drying environment is between 70-90 degrees Fahrenheit. At this temperature, water will evaporate at just the right speed so the dehumidifiers will be able to remove it as fast as it enters the air.
When you're dealing with multiple levels affected by water, there are more cavities where water can become trapped. We often dry out these cavities by injecting dry air into them and it can take longer than 72 hours for the area to dry out completely.
Also, you want to make sure the restoration company you hire has up-to-date drying equipment. Restoration equipment is continually becoming more efficient every day. The older equipment that is still being used takes longer to dry out your home and consumes a lot more electricity.
What do I need to do once my house is dry?
Finally, the time has come for the technician to inform you that everything is dry and they can pull the equipment from your home.
This is a summed version of what to expect during a water damage job. Every job is different, and not all companies are the same, but the process of mitigating damages does have its protocols for each situation. Finding a company that understands and follows these protocols is a company you should hire.